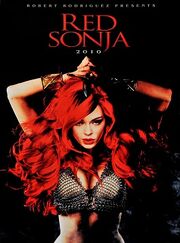 WHAT WE NOW:
Edit
A second Red Sonja film has been in development for some years. In 2008, Robert Rodriguez and his production company Troublemaker Studios were working on a version that would have starred Rose McGowan as the titular character. By 2009 however, the Rodriguez project had been scrapped, and as of February 2010, rights holders Nu Image are moving forward with another projected new film, to be directed by Simon West. Producer Avi Lerner has said he would like to see Amber Heard take the role of Sonja, after having worked with her on Drive Angry. Lerner says the film will shoot before the sequel to Conan the Barbarian. In August 2012 at the premiere of The Expendables 2 West said that the film is still a go and will be out soon.
This movie is now Dead In The Water.  
Ad blocker interference detected!
Wikia is a free-to-use site that makes money from advertising. We have a modified experience for viewers using ad blockers

Wikia is not accessible if you've made further modifications. Remove the custom ad blocker rule(s) and the page will load as expected.