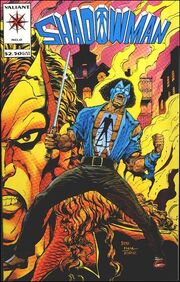 WHAT WE KNOW:
Edit
Among its fans, Shadowman counts rapper/actor Ice Cube, who went approached Acclaim Entertainment in 1999 about mounting a feature film.[13] Acclaim declined this offer, as they were focused on the success of the Shadowman video game franchise. Others linked with the role include Will Smith, DMX and The Game. In October 2012, Valiant Entertainment announced a film version of the property, produced by Sean Daniel and written by J. Michael Straczynski.
Section heading
Edit
Write the second section of your page here.
Ad blocker interference detected!
Wikia is a free-to-use site that makes money from advertising. We have a modified experience for viewers using ad blockers

Wikia is not accessible if you've made further modifications. Remove the custom ad blocker rule(s) and the page will load as expected.