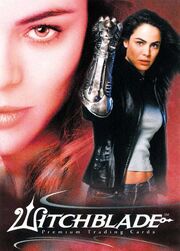 http://i424.photobucket.com/albums/pp327/monitor_ep/comic%20books%20in%20the%20media%20photos/Cs02topcow-183x246_zps9b6c63dd.jpg
Witchblade is an American television series that aired on TNT from 2001 to 2002. The series is based on the Witchblade comic book series, and followed a pilot film which debuted in August 2000. Some of the episodes were written by Ralph Hemecker, Marc Silvestri (who also wrote the comic book) and J.D. Zeik.
Yancy Butler starred as Sara Pezzini, Anthony Cistaro as Kenneth Irons, David Chokachi as Jake McCartey, Eric Etebari as Ian Nottingham, Will Yun Lee as Danny Woo, Conrad Dunn as Tommy Gallo, Kenneth Welsh as Joe Siri, and John Hensley as Gabriel Bowman, among others. Although critically acclaimed and popular with audiences,[citation needed] the show was canceled in September 2002; there was speculation that the cancellation was connected to Butler's entering rehab for alcoholism.[1]
The series ran for two seasons on TNT, for a total of 24 episodes (including pilot). The first episode aired June 12, 2001; the last episode aired August 26, 2002. In spite of its cancellation, Witchblade was ranked seventh in the Top 10 Basic Cable Dramas for 2002 (Multichannel News, February 24, 2003).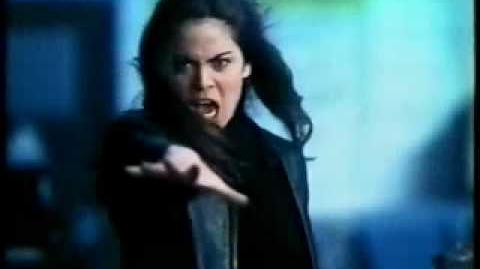 This is the story of a New York detective, Sara "Pez" Pezzini. Her search for justice brings her into contact with the Witchblade, an ancient, intelligent, living weapon so powerful it can battle Earth's darkest evil forces. Week in and week out, "Pez" employs her skills as a police detective to fight crime. She finds she must employ the Witchblade to combat a much greater and frighteningly organized conspiracy of evil that threatens the very soul of humanity. As Sara tries to keep the secret of the Witchblade, do her job and have a personal life, she finds that her most formidable adversary may be the Witchblade itself.
Ad blocker interference detected!
Wikia is a free-to-use site that makes money from advertising. We have a modified experience for viewers using ad blockers

Wikia is not accessible if you've made further modifications. Remove the custom ad blocker rule(s) and the page will load as expected.