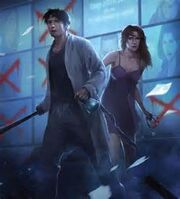 http://i424.photobucket.com/albums/pp327/monitor_ep/comic%20books%20in%20the%20media%20photos/Cs02topcow-183x246_zps9b6c63dd.jpg
Syfy announced yesterday that it will adapt Top Cow's Pilot Season hit The Test into a new TV series titled No Place.
The network is teaming with Fox Television Studios, Back to the Future director Robert Zemeckis, producers Jack Rapke and Jackie Levine, and The Game writers John Brancato and Michael Ferris on the project. Zemeckis and Rapke are executive producers along with Brancato and Ferris who will write the pilot.
Circle of Confusion will also produce the project with Rick Jacobs and The Walking Dead's David Alpert as executive producers. Matt Hawkins and Marc Silvestri serve as executive producers for Top Cow.
"We are very excited to be in business with this amazing A-list team," said Mark Stern, President of Original Content, Syfy and Co-Head Original Content, Universal Cable Productions. "We look forward to them bringing their high-quality feature-level sensibility to this taut sci-fi drama.
In No Place, residents of a high-tech gated community awaken one morning to find themselves alone and cut off from the rest of reality – nothing exists beyond the community's walls. Only one man has contact with the powers responsible for what is known as "The Rift," and he must lead his fellow residents beyond the void to discover the truth.
A group of ten strangers wake up in a mysterious town with no memory of who they are and how they got there. They are the lone survivors of an apocalyptic event and have been chosen to repopulate the Earth. The bigger question is what is the true nature of their fate?
Ad blocker interference detected!
Wikia is a free-to-use site that makes money from advertising. We have a modified experience for viewers using ad blockers

Wikia is not accessible if you've made further modifications. Remove the custom ad blocker rule(s) and the page will load as expected.