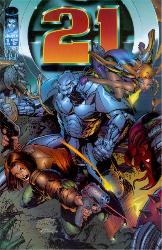 http://i424.photobucket.com/albums/pp327/monitor_ep/comic%20books%20in%20the%20media%20photos/Cs02topcow-183x246_zps9b6c63dd.jpg
WHAT WE KNOW:
Edit
When this issue was in previews not only was it supposed to be a comic book, but also a cartoon series and action figure lineup.  As far as I know nothing has been released but a few comics.
21 traveled to the wrong time period while in search of Menckan Kline, Zoe's relative. He then found Scrap and accidently transported him back to the future, mistaking him for Menckan. 21, Scrap and Zoe soon have to battle with 21's older brothers to protect the universe.
Ad blocker interference detected!
Wikia is a free-to-use site that makes money from advertising. We have a modified experience for viewers using ad blockers

Wikia is not accessible if you've made further modifications. Remove the custom ad blocker rule(s) and the page will load as expected.