TOPPS COMICS IN THE MEDIA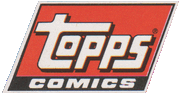 Topps Comics was a division of Topps Company, Inc. that published comic books from 1993 to 1998, beginning its existence during a short comics-industry boom that attracted many investors and new companies. It was based at 254 36th Street, Brooklyn, New York City, New York, and at One Whitehall Street, in New York City's Manhattan.
The company specialized in licensed titles, particularly movie and television series tie-ins, such The X-Files, based on the Fox TV show, and the films Bram Stoker's Dracula and Jurassic Park. It also licensed such literary properties as Zorro, and published a smattering of original series, including Cadillacs and Dinosaurs and several based on concepts by then-retired industry legend Jack Kirby.
Topps Comic Books:
Edit
TOPPS COMICS FRANCHISE
BRAM STOKER'S DRACULA
CADILLACS AND DINOSAURS
DUCKMAN
JACKIE CHAN'S SPARTAN X
JURASSIC PARK
MARS ATTACKS
SPACE ABOVE AND BEYOND
THE X-FILES
HERCULES & XENA WARRIOR PRINCESS