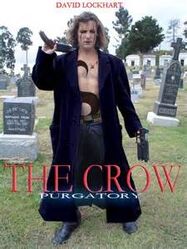 JAMES O'BARR'S THE CROW 
CROW: PURGATORY pt 1
Edit
This is the 2004 fan film that spawned it's popular sequel. Originally created for SFCROW2K4, a nightclub event celebrating the 10th anniversary of Brandon Lee's film. - where James O'Barr attended as the honorary guest. We wanted to expand the Crow universe by introducing new characters and stories while paying homage to the James O'Barr graphic novel while keeping it in a donut budget,,,,YES! Donuts were used to finance the fan film.
THE CROW: PURGATORY pt 2
Edit
Here's where the fight scenes come in!
Props to the energy and spirit of the cast! Currently, a treatment of PURGATORY is circulating around L.A. which will be based on DESCIPLE: The Gothic Multimedia Opera respectfully shedding it's Crow affiliation to stand as an original film. (Thanks to script agent, David A. Lockhart)
MONITOR'S NOTES
Edit
This marks the first crossover of Crow and DC Comics.  Death shows up in the afterlife experiance.
Ad blocker interference detected!
Wikia is a free-to-use site that makes money from advertising. We have a modified experience for viewers using ad blockers

Wikia is not accessible if you've made further modifications. Remove the custom ad blocker rule(s) and the page will load as expected.