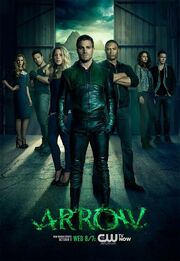 DC CINEMATIC MULTIVERSE
"Honor Thy Father" is the second episode of the first season of Arrow, and the second episode overall. It aired on October 17, 2012.
Laurel brings a civil suit against millionaire Martin Somers, who is also one of Oliver's targets, for taking part in drug trades with the Chinese Triads that ultimately led to the death of a young woman's father. As the hooded vigilante, Oliver threatens Somers to make him confess to the murder as penance for all of the wrongs he has done to the city. Instead, Somers contacts the Triad, who send the assassin China White to kill Laurel. Oliver saves Laurel from China; he later obtains Somers' confession and gives an audio recording of it to Detective Lance. Meanwhile, Oliver's mother and Walter push Oliver to take a position at the company. Oliver stymies their efforts by using the opening of the company's new applied sciences division to publicly opt out of the position, knowing that he cannot simultaneously honor his father's request to fight for the city and be the man his mother wants him to be. A flashback to Oliver's time on the island shows him being attacked by an unknown hooded figure wielding a bow and arrow.
ARROW'S WHO'S WHO:
Edit
| CAST | DC COMICS EASTER EGGS |
| --- | --- |
| OLIVER QUEEN - ARROW | |
| DINAH "LAUREL" LANCE | |
| TOMMY MERLYN | |
| JOHN DIGGLE | |
| THEA QUEEN | |
| MORIA QUEEN | |
| ROBERT QUEEN | |
| WALTER STEELE | |
| DETECTIVE QUENTIN LANCE | |
| CHINA WHITE | |
| JOANNA DE LA VEGA | |
| MARTAIN SOMERS | |
| EMILY NOCENTI | |
| TV ANCHORMAN (MARRETT GREEN) | |
| BODYGUARD #6 (TRISTIN JENSEN) | |
| VICTOR NOCENTI | |
| REPORTER #2 (BABAK A. MOTAMED) | |
| QUEEN FAMILY LAWYER | |
| MARCUS REDMAN | |
| REPORTER #4 (DAVID QUINLAN) | |
| REPORTER #5 (MARC SENIOR) | |
| REPORTER #3 (ELIZABETH TAI) | |
| REPORTER #1 (JOANNE WILSON) | |
MONITOR'S NOTES: Behind-the-scenes
Edit
Just before Oliver climbs up onto the shipping container, after his fight with China White, he throws his bow to the ground. But when he jumps off the other side, the bow is back in his hand.
Ad blocker interference detected!
Wikia is a free-to-use site that makes money from advertising. We have a modified experience for viewers using ad blockers

Wikia is not accessible if you've made further modifications. Remove the custom ad blocker rule(s) and the page will load as expected.