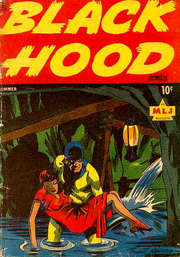 RED CIRCLE COMICS IN THE MEDIA
The Black Hood Republic 1941 (7 Chapters Filmed) THE BLACK HOOD was conceived by Republic as another costumed character vehicle for Tom Tyler. Bela Lugosi, who had worked at Republic three years before in SOS COAST GUARD, was hired to play the Hood's arch enemy, Daggerface, leader of the Crimson Cult. Half of this serial was actually filmed, however, it was unwisely used as a counterweight during a scene involving a vat of deadly acid, and accidentally destroyed. Lugosi, distraught over his lost performances, was unable to return to work, and shooting was discontinued. Tyler said, at the time, "I'm sick of tights, and the hero was yellow, anyway."
Ad blocker interference detected!
Wikia is a free-to-use site that makes money from advertising. We have a modified experience for viewers using ad blockers

Wikia is not accessible if you've made further modifications. Remove the custom ad blocker rule(s) and the page will load as expected.