INDEPENDENT COMICS IN THE MEDIA
TOO MUCH COFFEE MAN IN THE MEDIA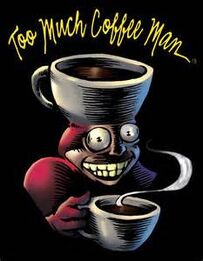 Too Much Coffee Man is an American satirical superhero created by cartoonist Shannon Wheeler, and which has appeared in comic strips, minicomics, webcomics, comic books, magazines, books, and operas.Visually, the character is a parody of superheroes, which since their inception have been colloquially referred to by industry professionals as "long-underwear characters". Too Much Coffee Man wears literal long underwear, dressing in what appears to be a spandex version of old-fashioned red "long johns" (full-body underwear with a buttoned flap on the back for bodily functions). Too Much Coffee Man is an anxious Everyman who broods about the state of the world, from politics to people, exchanging thoughts with friends and readers.
Marvel Comics and the cable television network Comedy Central were developing a potential animated series or special with the production company Nelvana in 2000 and 2001. However, the project was abandoned after both Wheeler and Comedy Central agreed that the script lacked quality.
Ad blocker interference detected!
Wikia is a free-to-use site that makes money from advertising. We have a modified experience for viewers using ad blockers

Wikia is not accessible if you've made further modifications. Remove the custom ad blocker rule(s) and the page will load as expected.