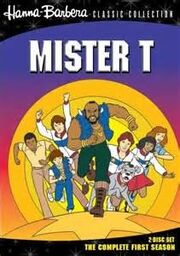 The cartoon stars Mr. T as a coach to a gymnastics team (with a specific emphasis on members Jeff, Woody, Robin, and Kim), travelling the world while becoming involved in and solving various mysteries.  Paul Dini, Jack Kirby, and Neal Adams have all contributed to Mr. T's comic book and cartoon show.  At the beginning of each episode, a live-action introduction featuring Mr. T himself is shown to explain what is going on. At the end of each episode, Mr. T narrates a moral lesson for the audience. (1)
MR. T AND THE T-FORCE:
Edit
Mr. T runs a team made up of promising Olympic gymnastic teen hopefuls. As they travel on the competition tour, they can't help but run into crooks of all varieties.  As they use there best amateur detective skills and investigate the cases on hand using there acrobatic skill and Mr. T's strength to stop the criminals.
Ad blocker interference detected!
Wikia is a free-to-use site that makes money from advertising. We have a modified experience for viewers using ad blockers

Wikia is not accessible if you've made further modifications. Remove the custom ad blocker rule(s) and the page will load as expected.