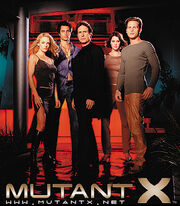 Mutant X is a science fiction television series that debuted on October 6, 2001. The show was created by Avi Arad, and it centers around Mutant X, a team of "New Mutants" who possess extraordinary powers as a result of genetic engineering. The members of Mutant X were used as test subjects in a series of covert government experiments. The mission of Mutant X is to seek out and protect their fellow New Mutants. The series was filmed in Toronto, Ontario, Canada.
Even though the series had high ratings and was meant to be renewed for a fourth season, it was abruptly canceled in 2004 after the dismantling of Fireworks Entertainment, one of the show's production companies, ending the show on a cliffhanger.
Several years ago a company called Genomex carried out a series of illegal and immoral experiments on human subjects, forever altering the DNA of any children they might have, to make them mutations from the norm. Now many of those children have grown up, and it has become increasingly difficult for the rest of the world to ignore the New Mutants in their midst. Genomex, under the direction of Mason Eckhart, one of the original scientists, seeks to exploit its creations. Others seek to protect them. A New Mutant Underground has sprung up, and one of the most prominent cells in that organization is Mutant X, a team of powerful New Mutants led by Adam Kane, head chief biogeneticist of The Genomex scientists who participated in the experiments which have altered the world forever
SEASONS
SEASON 1
SEASON 2
SEASON 3
Ad blocker interference detected!
Wikia is a free-to-use site that makes money from advertising. We have a modified experience for viewers using ad blockers

Wikia is not accessible if you've made further modifications. Remove the custom ad blocker rule(s) and the page will load as expected.