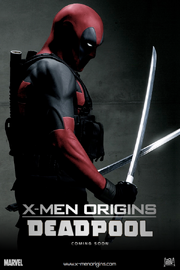 MARVEL COMICS IN THE MEDIA
In 2003, New Line Cinema attempted to produce a Deadpool film.  In February 2004, writer/director David S. Goyer was working on the spin-off with actor Ryan Reynolds in the title role. However, by August 2004, Goyer lost interest in favor of other projects, but Reynolds remained interested. In March 2005, 20th Century Fox became interested in moving forward on production for Deadpool after New Line Cinema put the project in turnaround. The studio considered the Deadpool spin-off early in the development of X-Men Origins: Wolverine, which is why Reynolds was cast for the role. After the opening weekend success of X-Men Origins: Wolverine, Fox announced that it was lending Deadpool out to writers with Lauren Shuler Donner and Marvel Studios acting as producers. Donner stated that she wants the film to ignore the version of Deadpool that we saw in X-Men Origins: Wolverine and reboot the character. She also stated that Deadpool will have the attributes that the character has in the comics, such as breaking the fourth wall. Rhett Reese and Paul Wernick were hired to write the script in January 2010. Robert Rodriguez was sent an early draft of the screenplay in June 2010. After negotiations with Rodriguez fell through, Adam Berg emerged as a top contender to direct. Filming was scheduled to begin with Reynolds in 2012. In April 2011, it was announced that visual effects specialist Tim Miller would be directing the film. According to Miller, it's up to 20th Century Fox whether or not the film happens.
Pre-Production Work:
Edit
There has been talk of a "Deadpool" movie since Ryan Reynolds got his head chopped off at the end of "X-Men Origins: Wolverine," but 20th Century Fox has yet to give the greenlight to the "X-Men" spinoff. Leaked pre-production footage, however, shows the studio has been given a preview of what the film would look and sound like. The CGI-rendered scene features the titular Marvel hero diving into action while Reynold's voice cracks jokes along the way. (yahoo movies)
Ad blocker interference detected!
Wikia is a free-to-use site that makes money from advertising. We have a modified experience for viewers using ad blockers

Wikia is not accessible if you've made further modifications. Remove the custom ad blocker rule(s) and the page will load as expected.