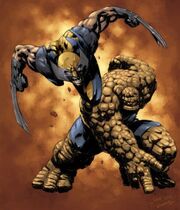 MARVEL COMICS IN THE MEDIA
FOX Studios now houses the second Marvel Cinematic Universe constisting of the X-Books and the Fantastic Four books.  Fox has said that they are plaining on releasing a X-Men/Fantastic Four cross-over.
After the 2015 F4 movie was released and has gotten nothing but negative reviews Fox decided to break them into two different universes.
Ad blocker interference detected!
Wikia is a free-to-use site that makes money from advertising. We have a modified experience for viewers using ad blockers

Wikia is not accessible if you've made further modifications. Remove the custom ad blocker rule(s) and the page will load as expected.