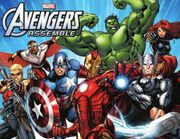 Avengers Assemble is an American animated television series, based on the fictional Marvel Comics superhero team the Avengers, which has been designed to capitalize on the success of the 2012 film adaptation. Avengers Assemble premiered on May 26, 2013, on Disney XD. The series is a replacement for The Avengers: Earth's Mightiest Heroes. It airs alongside Ultimate Spider-Man, while Hulk and the Agents of S.M.A.S.H. will be added to the "Marvel Universe" television block in August 2013. Additionally, it features a near-identical cast and crew with both shows, and shares continuity with them as part of the block. Joe Casey, Joe Kelly, Duncan Rouleau and Steven T. Seagle, a group known as Man of Action, have been confirmed to be the executive producers of the series. On the Mighty Marvel Podcast #122 it was revealed the series would debut with an hour long slot featuring episodes 101 and 102 titled "The Avengers Protocol Part 1" and "The Avengers Protocol Part 2", respectively.
PLOT: Season 3 Marvel's Avengers: Ultron Revolution
Edit
In season three of "Marvel's Avengers: Ultron Revolution," the Avengers are not only shocked by the return of a vengeful Ultron, but they also encounter new threats like Baron Zemo, the Masters of Evil, the Inhumans, and the futuristic Kang the Conqueror. It's only with the help of heroes like Black Panther, Captain Marvel, Ant-Man and Ms. Marvel that they have a chance of surviving an all-out Marvel super hero Civil War.
SEASON 1
The Avengers Protocol: Part 1
The Avengers Protocol: Part 2
Ghost of a Chance
The Serpent of Doom
Blood Feud
Super-Adaptoid
Hyperion
Molecule Kid
Depth Charge
The Doomstroyer
Hulked Out Heroes
Avengers: Impossible
In Deep
Hulk's Day Out
Planet Doom
Bring on the Bad Guys
Savages
Mojo World
The Ambassador
All-Father's Day
By the Numbers
Guardians and Space Knights
One Little Thing
Crime and Circuse
Exodus
The Final Showdown
Ad blocker interference detected!
Wikia is a free-to-use site that makes money from advertising. We have a modified experience for viewers using ad blockers

Wikia is not accessible if you've made further modifications. Remove the custom ad blocker rule(s) and the page will load as expected.