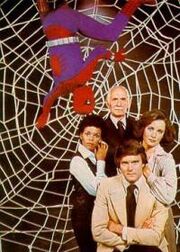 http://i424.photobucket.com/albums/pp327/monitor_ep/comic%20books%20in%20the%20media%20photos/SPIDEYLOGO_zpscf3638e7.jpg
The Amazing Spider-Man is the first live-action TV series based on the popular comic book The Amazing Spider-Man, not counting Spider-Man's appearances on the educational The Electric Company series, and was shown in the USA between 1977-1979. It consisted of 13 episodes, which included a pilot movie in the fall of 1977; five one-hour episodes in the spring of 1978; six one hour episodes aired in the fall of 1978 and early 1979; and then a final two-hour episode in the summer of 1979. None of the episodes are available on DVD, but almost all of them have been released on VHS. Despite being set in New York City, the series was mostly filmed in Los Angeles.  The series began as a backdoor pilot in the form of a two-hour film known simply as Spider-Man which aired in September 1977. In it, university student Peter Parker gains super powers after being bitten by a radioactive spider and uses his new super powers to get a job at the Daily Bugle and stop a con man who is using mind control. In the pilot J. Jonah Jameson was played by actor David White and subsequently replaced with Robert F. Simon for the weekly series.  The series was then picked up for a limited series of five episodes, which aired at the end of the season in April and May 1978. This run of episodes debuted very well, with the first obtaining a 22.8 rating with 16.6 million viewers, making it the best rated program for the week on CBS, and the eighth best rated program for the week overall. The series ended up being the 19th best rated show of the season, but that didn't stop CBS from cancelling it in May 1978. However, it was later picked up for another limited series, this time of eight episodes, to air sporadically through the 1978-79 TV season. The show was officially cancelled after that.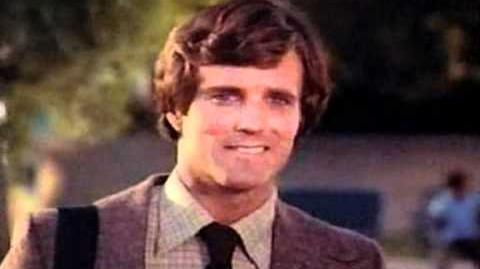 Ad blocker interference detected!
Wikia is a free-to-use site that makes money from advertising. We have a modified experience for viewers using ad blockers

Wikia is not accessible if you've made further modifications. Remove the custom ad blocker rule(s) and the page will load as expected.