Ad blocker interference detected!
Wikia is a free-to-use site that makes money from advertising. We have a modified experience for viewers using ad blockers

Wikia is not accessible if you've made further modifications. Remove the custom ad blocker rule(s) and the page will load as expected.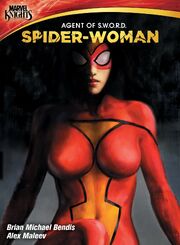 http://i424.photobucket.com/albums/pp327/monitor_ep/comic%20books%20in%20the%20media%20photos/SPIDEYLOGO_zpscf3638e7.jpg
With Jessica Drew still reeling from the effects of having been sedated and physically replaced on Earth by the Skrull Queen Veranke, the last thing in the world she wants to encounter is another Skrull invasion. But when Jessica is approached by Abigail Brand, a mysterious agent of S.W.O.R.D., she finds that the urge within herself to inflict vengeance upon the Skrulls is too overwhelming to deny.
The acclaimed, intensely written and beautifully illustrated seven-issue miniseries by Eisner Award winners Brian Michael Bendis and Alex Maleev finally comes to life in this stunning Marvel Knights presentation not to be missed