SPIDER-MAN AND HIS AMAZING FRIENDS
EPISODES:
Edit
SYNOPSIS:
Edit
In order to earn enough money to buy Aunt May a birthday present, the trio acquire jobs as 'gophers' at the nation's annual Police Chief And Wardens Convention. The Spider-Friends are called into action when Magneto appears, demanding the release of his 'Brotherhood of Evil Mutants' from jail. The magnetic menace then unleashes a force field, imprisoning the assembled crowd, and seizes control of the east coast's power supply. The Spider-Friends eventually escape and lure the super-villain to the Niagara power plant. There, they ensnare him between the two generators that he has been using to boost his powers. They increase the voltage and the resulting overload knocks him unconscious.
Featured Characters:
Spider-Man
Firestar
Iceman
Magneto
Brotherhood of Mutants (Blob, Toad, Mastermind)
ILLUSIONS: Mephisto, Psyklop, Annihilus, Zarathos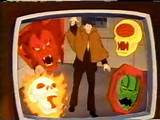 Ad blocker interference detected!
Wikia is a free-to-use site that makes money from advertising. We have a modified experience for viewers using ad blockers

Wikia is not accessible if you've made further modifications. Remove the custom ad blocker rule(s) and the page will load as expected.