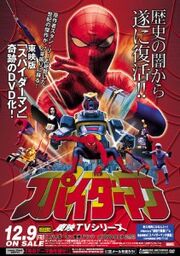 http://i424.photobucket.com/albums/pp327/monitor_ep/comic%20books%20in%20the%20media%20photos/SPIDEYLOGO_zpscf3638e7.jpg
Spider-Man (スパイダーマン, Supaidāman?) is a Japanese live-action television series produced by Toei Company, loosely based on Marvel's Spider-Man character. The series lasted 41 episodes, which aired on the Wednesday 19:30 JST time slot of Tokyo Channel 12 from May 17, 1978, to March 14, 1979. A theatrical episode was also shown in the Toei Manga Matsuri film festival on July 22, 1978. From March 5 to December 24, 2009, Marvel uploaded English subtitled versions of all 41 episodes and the movie on their official website.
While Toei's version of the character wore the same costume as his Marvel counterpart, the show's storyline and the origin of the character's powers deviated completely from the source material. In addition to fighting by himself, this incarnation of Spider-Man also piloted a giant robot known as Leopardon, which he would summon to thwart off enlarged versions of the show's monsters. Toei would adopt the giant robot concept in subsequent incarnations of their own Super Sentai franchise.
Young motorcycle racer Takuya Yamashiro sees a UFO falling to earth, in fact a space warship named the "Marveller" from the planet "Spider". Takuya's father Dr. Hiroshi Yamashiro, a space archaeologist, investigates the case, but is killed upon finding the spaceship. The incident also attracts the attention of Professor Monster and his evil Iron Cross Army (鉄十字団, Tetsu Jūji Dan?), an alien group that plans to rule the universe.
Takuya follows his father to the Marveller and discovers Garia, the last surviving warrior of Planet Spider, a world that was destroyed by Professor Monster and the Iron Cross Army. Garia explains that he was hunting Prof. Monster but now needs someone to carry on the fight and he injects Takuya with some of his own blood. The blood of a person from Planet Spider gives Takuya spider-like powers. Garia then gives Takuya a bracelet that can activate his spider protector costume, shoot web-lines, and controls the Marveller ship (which can also transform into a giant battle robot called "Leopardon"). Using his powers, Takuya, now called Spider-Man, fights Professor Monster's army and other threats to Earth under the name Spider-Man.
Ad blocker interference detected!
Wikia is a free-to-use site that makes money from advertising. We have a modified experience for viewers using ad blockers

Wikia is not accessible if you've made further modifications. Remove the custom ad blocker rule(s) and the page will load as expected.