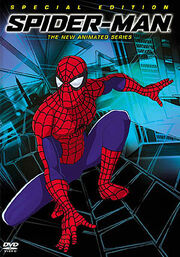 http://i424.photobucket.com/albums/pp327/monitor_ep/comic%20books%20in%20the%20media%20photos/SPIDEYLOGO_zpscf3638e7.jpg
Spider-Man: The New Animated Series (also known as MTV Spider-Man) is an American animated television series based on the Marvel comic book superhero character Spider-Man, which ran for only one season, and only 13 episodes, starting on July 11, 2003. It is a loose continuation of 2002's Spider-Man film directed by Sam Raimi.[1] The show was made using computer generated imagery (CGI) rendered in cel shading and was broadcast on MTV, and YTV. Eight months later after the series finale, episodes aired in reruns on ABC Family as part of the Jetix television programming block. The series featured a far more mature version of the character than typically seen on television for any animated comic book adaptation. Throughout the series, characters are clearly killed, rather than the usual ambiguous disappearance, and several characters are strongly implied to have had sex.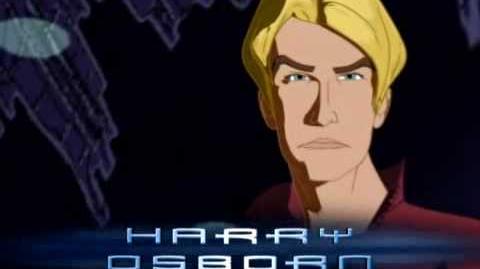 The story follows the events of the first Spider-Man film, as Norman Osborn is dead. Peter Parker, Mary Jane Watson, and Harry Osborn attend Empire State University. Peter and Mary Jane try to establish a relationship together though without success. At first it is because of Peter's superhero duties, but later it is because Peter begins dating Indira Daimonji. Meanwhile Harry craves revenge on Spider-Man, whom he blames for the death of his father. Peter faces the usual assortment of villains such as Lizard, Kraven the Hunter and Electro while trying to maintain a job and his studies. However, he faces two psychic twins that ruin everything in the wallcrawler's life, causing Peter to give up being Spider-Man and try to live a normal life.
SEASON 1
THE PARTY
WHEN SPARKS FLY
KEEPING SECRETS
TIGHT SQUEEZE
LAW OF THE JUNGLE
THE SWORD OF SHIKATA
HEAD OVER HEELS
FLASH MEMORY
SPIDER-MAN DIS-SABLED
ROYAL SCAM
HEROES & VILLAINS
MIND GAMES PT 1
MIND GAMES PT 2
Ad blocker interference detected!
Wikia is a free-to-use site that makes money from advertising. We have a modified experience for viewers using ad blockers

Wikia is not accessible if you've made further modifications. Remove the custom ad blocker rule(s) and the page will load as expected.