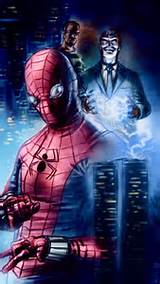 http://i424.photobucket.com/albums/pp327/monitor_ep/comic%20books%20in%20the%20media%20photos/SPIDEYLOGO_zpscf3638e7.jpg
WHAT WE KNOW:
Edit
Months later, James Cameron submitted an undated 47-page "scriptment" with an alternate story (the copyright registration was dated 1991), part screenplay, part narrative story outline. The "scriptment" told the Spider-Man origin, but used variations on the comic book characters Electro and Sandman as villains. This "Electro" (named Carlton Strand, instead of Max Dillion) was a megalomaniacal parody of corrupt capitalists. Instead of Flint Marko's character, Cameron's "Sandman" (simply named Boyd) is mutated by an accident involving Philadelphia Experiment-style bilocation and atom-mixing, in lieu of getting caught in a nuclear blast on a beach. The story climaxes with a battle atop the World Trade Center and had Peter Parker revealing his identity to Mary Jane Watson. In addition, the treatment was also heavy on profanity, and had Spider-Man and Mary Jane having sex.
This treatment reflected elements in previous scripts: from the Stevens treatment, organic web-shooters, and a villain who tempts Spider-Man to join a coming "master race" of mutants; from the original screenplay and rewrite, weird electrical storms causing blackouts, freak magnetic events and bi-location; from the Ethan Wiley draft, a villain addicted to toxic super-powers and multiple experimental spiders, one of which escapes and bites Peter, causing an hallucinatory nightmare invoking Franz Kafka's The Metamorphosis; from the Frank LaLoggia script, a blizzard of stolen cash fluttering down onto surprised New Yorkers; and from the Neil Ruttenberg screenplay, a criminal assault on the NYC Stock Exchange. In 1991, Carolco Pictures extended Golan's option agreement with Marvel through May 1996, but in April 1992, Carolco ceased active production on Spider-Man due to continued financial and legal problems.
Ad blocker interference detected!
Wikia is a free-to-use site that makes money from advertising. We have a modified experience for viewers using ad blockers

Wikia is not accessible if you've made further modifications. Remove the custom ad blocker rule(s) and the page will load as expected.