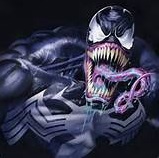 MARVEL COMICS IN THE MEDIA
SPIDER-MAN FAMILY IN THE MEDIA
Venom is a future spin-off film in Marc Webb's Spider-Man movie series. It will feature the character of Venom as the main character. 
The film will follow the inarnation of Eddie Brock as Venom and will be a link in film to the Amazing Spider-Man film series, sharing its continuity in a similar fashion to the Marvel Cinematic Universe film series.  "Venom hated only one guy – Spider-Man. He wasn't innately bad, he was a shortcut guy, not really into fighting hard for achievement. That's the Venom story. Can he also be a good guy? As you know, Venom was also called 'lethal defender of the innocent'. We had a great history with him, especially caring for the homeless, which is a very sensitive issue and something that many of us are very concerned with. Our villains all represent a different side of the misunderstood, and some of them unfortunately turned to the dark side. Venom happened to be a phenomenal character. With Eddie Brock, or if you do Flash Thompson, it doesn't matter who is going to be inside the suit – what's important is that a man like him is going to realise there comes a time when you wake up in the morning and say 'How did I get here? There must be a better way.'"
Section heading
Edit
Write the second section of your page here.
Ad blocker interference detected!
Wikia is a free-to-use site that makes money from advertising. We have a modified experience for viewers using ad blockers

Wikia is not accessible if you've made further modifications. Remove the custom ad blocker rule(s) and the page will load as expected.