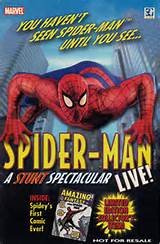 http://i424.photobucket.com/albums/pp327/monitor_ep/comic%20books%20in%20the%20media%20photos/SPIDEYLOGO_zpscf3638e7.jpg
In 2002, the company 2MA produced the first live-action Spider-Man stunt show, staged in Jeddah, Saudi Arabia. The same show played at Thorpe Park in Surrey, England in 2003 and 2004. Spider-Man has also made stage appearances in Pantomime at the Birmingham Hippodrome Theatre and the Churchill Theatre, Bromley UK. In 2003 a similar stage show called Spider-Man Live! toured North America.
WHAT WE KNOW:
Edit
Spider-Man Live! - A Stunt Spectacular was the first full length, live-action stage show based on the Marvel comic book character, Spider-Man, to appear in the United States.
Written and directed by Kevin Shinick and produced by Ultimate Shows & Entertainment and Marvel Enterprises, Inc, the show combined state of the art flying illusions, acrobatic and trapeze stunts, pyrotechnics and multimedia special effects into a theatrical production that embarked on a 40 city U.S. tour from 2002 - 2003.
Ad blocker interference detected!
Wikia is a free-to-use site that makes money from advertising. We have a modified experience for viewers using ad blockers

Wikia is not accessible if you've made further modifications. Remove the custom ad blocker rule(s) and the page will load as expected.