http://i424.photobucket.com/albums/pp327/monitor_ep/comic%20books%20in%20the%20media%20photos/SPIDEYLOGO_zpscf3638e7.jpg
Spider-Man is an American animated television series that aired from September 9, 1967, to June 14, 1970. It was jointly produced in Canada (for voice talent) and in the USA (for animation) and was the first animated adaptation of the Spider-Man comic book series, created by writer Stan Lee and artist Steve Ditko. It first aired on the ABC television network in the USA but went into syndication at the start of the third season. Grantray-Lawrence Animation produced the first season. Seasons 2 and 3 were crafted by producer Ralph Bakshi in New York City. In Canada, it is currently airing on Teletoon Retro. An internet meme, commonly known as 1960s Spiderman, regarding the series has received an overwhelming amount of popularity. The meme consists of a screenshot taken at a random part of the series and adding an inappropriate and/or witty text. Since the death of Max Ferguson on March 7 2013, there are only three surviving members from the cast. Those three being Paul Soles, the voice of Spider-Man, Chris Wiggins, the voice of Mysterio and Carl Banas, the voice of the Scorpion.
SYNOPSIS:
Edit
The series revolves around the scientific-minded teenager Peter Parker who, after being bitten by a radioactive spider, develops amazing strength and spider-like powers. He decides to become a crime-fighting, costumed superhero; all the while dealing with his personal problems and the insecurities resulting from being a teenager. Spider-Man risks his life to fight super-powered criminals such as Doctor Octopus, Mysterio and the Green Goblin; however, New York Daily Bugle editor J. Jonah Jameson views him as a criminal, and continually writes front page headlines declaring him as such.
The first season of the show dealt primarily with Peter working at the Daily Bugle as a teenage freelance photographer, thereby capturing his relationship with the gruff, demanding J. Jonah Jameson and shyly romancing Betty Brant over the reception desk, while Peter was often being called into action as his crime-fighting alter-ego. Peter's life away from the Bugle's newspaper offices and Aunt May's Forest Hills home were almost never dealt with in these early episodes, and he was also never seen at college-—although he would sometimes visit various professors he clearly knew (such as the opening of "Sub-Zero for Spidey," where he went to see a professor by the name of "Smartyr"). Still, the character design for young Parker was spot-on, combining the conceptualizations of both Steve Ditko (right down to Ditko's design of Parker's primary-colored blue suit, yellow vest, white shirt, and red tie) and John Romita, Sr., who served as art consultant for the show.
Season 1 contained mostly stories involving classic Spider-Man villains from the comic book series, whose captures were often punctuated by a note signed "your friendly neighborhood Spider-Man." Character creator Stan Lee served as story consultant for this season of the show. The Ralph Bakshi-helmed seasons 2 and 3, however, almost entirely eliminated villains from the comic book as a cost-cutting measure, choosing to instead have Spider-Man face generic green skinned magical villains and monsters, thereby enabling re-use of stock footage from Rocket Robin Hood, another animated series which was produced by Bakshi.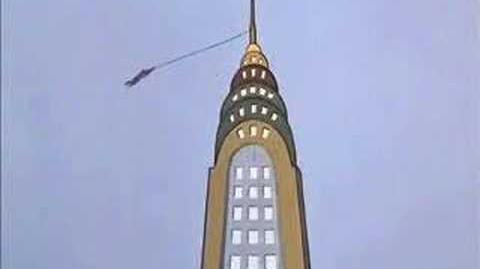 SEASONS
SEASON 1
SEASON 2
SEASON 3
Ad blocker interference detected!
Wikia is a free-to-use site that makes money from advertising. We have a modified experience for viewers using ad blockers

Wikia is not accessible if you've made further modifications. Remove the custom ad blocker rule(s) and the page will load as expected.