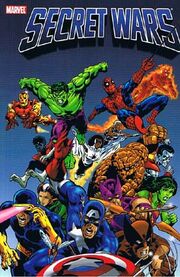 http://i424.photobucket.com/albums/pp327/monitor_ep/comic%20books%20in%20the%20media%20photos/marvelstudios_zps8e9cdcd2.jpg
http://i424.photobucket.com/albums/pp327/monitor_ep/comic%20books%20in%20the%20media%20photos/secretwarslogo_zpsf2713e94.jpg
The Secret Wars was a ground breaking mini-series from Marvel that brought all of Earth-616's greatest heroes together to battle with the worst villains under the watchful eye of the Beyonder.
Edit
90'S SPIDER-MAN
Edit
SEASON 5 EPISODES 61 - 63
EP 61 ARRIVAL: Madame Web brings Spider-Man to another dimension where he is brought before a being known as the Beyonder, who has chosen Spider-Man to be part of an experiment to see if good is more powerful than evil. He finds a paradise planet and introduces a band of villains to take it over (Doctor Octopus, Doctor Doom, Alistair Smythe, The Lizard, and the Red Skull), and it's up to Spider-Man to lead a team of superheroes to save the planet. Spider-Man summons The Fantastic Four, Iron Man, Captain America, and Storm from the X-Men. Before he can explain, The Thing and The Human Torch attack him, but the others defend him. The Lizard then appears and attacks Spider-Man, but they knock him unconscious. 
EP 62 THE GUANTLET OF THE RED SKULL: Dr. Octopus and Alistair Smythe join forces with the Red Skull. Spider-Man brings Black Cat to the planet to help him. Along with Captain America, Iron-Man, and The Lizard (who has switched sides), they cross a wasteland in order to launch an assault on the Red Skull's empire. 
EP 63 DOOM: After defeating the Red Skull, Spider-Man and the team attempt to rendezvous with the Fantastic Four, only to discover that they have been ambushed and that Dr. Doom has kidnapped The Thing. The heroes all go to rescue him, entering Dr. Doom's empire, which they discover is a peaceful paradise. 
FAN-FILM: IMPROVE SECRET WARS
Edit
Halloween 2008 edition of Rapid Fire Theatre's "Theatresports", featuring the Avengers (Captain America, Scarlet Witch, The Human Torch, The Invisible Girl, Spider-Man, and Wolverine) vs. The Masters of Evil (Doctor Doom, Dr. Octopus, Magneto, Mystique, Green Goblin and The Red Skull) in a epic battle of improv skills - with the fate of the world hanging in the balance!
Starring: Joe Vanderhelm, Kirsten Rasmussen, Tess Degenstein, Chris Craddock, Jamie (Knifefight) Cavanagh, Marc Schulte, Amy Shostak, Mark Meer, Donovan Workun, Kory Mathewson, Joey Lucius, Gordie Lucius, KJ Saude, James Higuchi, Howie Miller, Matt Alden, Mike Robertson, Arlen Konopaki and Stuart Hoye (as Uato the Watcher). Video shot and chopped by David Bates (tyrant pictures)
FAN-FILM: SECRET WARS RE-ENACTMENT SOCIETY
Edit
From the podcast show Geek-Week.net, a bunch of Renactors dress up like superheroes and re-enact the Marvel comics series "Secret Wars"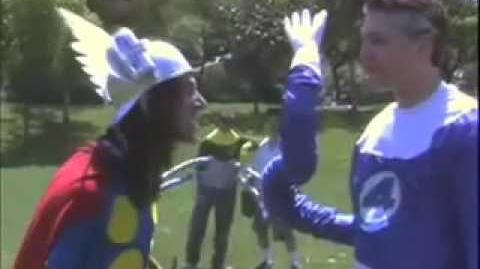 Ad blocker interference detected!
Wikia is a free-to-use site that makes money from advertising. We have a modified experience for viewers using ad blockers

Wikia is not accessible if you've made further modifications. Remove the custom ad blocker rule(s) and the page will load as expected.