Ad blocker interference detected!
Wikia is a free-to-use site that makes money from advertising. We have a modified experience for viewers using ad blockers

Wikia is not accessible if you've made further modifications. Remove the custom ad blocker rule(s) and the page will load as expected.
MARVEL COMICS IN THE MEDIA
SPIDER-MAN FAMILY IN THE MEDIA
Peter Parker was bitten by a radioactive spider as a teenager, granting him spider-like powers. After the death of his Uncle Ben, which he could have prevented, Peter learned that "with great power, comes great responsibility." Swearing to always protect the innocent from harm, Peter Parker became the Amazing Spider-Man!
SPIDER-MAN IN THE MEDIA
Edit
SPIDER-VERSE:
Edit
Here you will be able to see Spider-Man's extended family in the media.

THE OUTLAWS:
Edit
The Outlaws were a short lived group led by Spider-Man and employed by Silver Sable. The roster consisted mostly of reformed Super-villains. The team last joined forces to fight the Avengers.  Here you will be able to see The Outlaws in the media.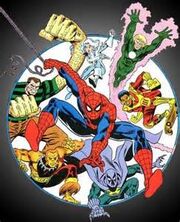 SPIDER-MAN FAMILY FAN FILMS
Edit

Here you will be able to see the many fan films about the Spider-Man Family.
| FAN FILMS | FAN FILMS | FAN FILMS | FAN FILMS | FAN FILMS | FAN FILMS |
| --- | --- | --- | --- | --- | --- |
| | | | | | |
| | | | | | |
| | | | | | |
| | | | | | |
| | | | | | |
| | | | | | |
| | | | | | |
| | | | | | |
| | | | | | |
| | | | | | |
| | | | | | |
| | | | | | |
| | | | | | |
| | | | | | |