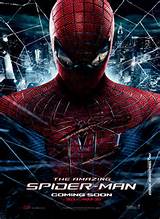 Peter Parker/Spider-Man (of Earth-120703) is an alternate version of Peter Parker that appears in the 2012 film The Amazing Spider-Man and the 2014 film, The Amazing Spider-Man 2.
The Amazing Spider-Man is a 2012 American superhero film based on the Marvel Comics character Spider-Man and sharing the title of the character's longest-running comic book. It is a reboot of the Spider-Man film series. The film was directed by Marc Webb, written by James Vanderbilt, Alvin Sargent and Steve Kloves, and stars Andrew Garfield, Emma Stone, Rhys Ifans, Denis Leary, Campbell Scott, Irrfan Khan, Martin Sheen and Sally Field. It was distributed by Columbia Pictures. The film tells the story of Peter Parker, a teenager from New York City who becomes Spider-Man after being bitten by a genetically altered spider. Parker must stop Dr. Curt Connors from spreading a mutation serum to the city's human population.
AMAZING SPIDER-MAN FILMS
Edit
SPIN-OFFS
Edit
Sony is planning on giving other heroes and villains in Spidey's orbit their own spin-off films, creating the third Marvel Cinematic Universe.  
SONY SPIDER-MAN HACKED:
Edit
The Sony email hacks have had a large presence in entertainment news since their inception in November, with leaked documents granting the public an unauthorized look at the behind-the-scenes working of upcoming film projects, and disclosing confidential business dealings, salaries and personal emails to the general public. It's one of the biggest breaches in Hollywood security in the modern era, and for comic fans, one property in particular hits home when it comes to Sony Pictures: Spider-Man.
OTHER TIE-INS
Edit
Here you will be able to the commericals and other tie ins to the Spider-Man Cinematic Universe.
MONITOR'S NOTES: The Spider-Man Cinematic Universe is over
Edit
As of Feb 9, 2015 the Spider-Man Cinematic Universe is over.  Spider-Man is now part of the Marvel Cinematic Universe.  Sony will be releasing the Solo Spider-Man films but under the watchful eye of Marvel.  This also means that we will get yet another reboot of Spider-Man.
Ad blocker interference detected!
Wikia is a free-to-use site that makes money from advertising. We have a modified experience for viewers using ad blockers

Wikia is not accessible if you've made further modifications. Remove the custom ad blocker rule(s) and the page will load as expected.