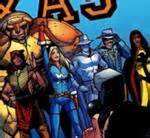 http://i424.photobucket.com/albums/pp327/monitor_ep/comic%20books%20in%20the%20media%20photos/marvelstudios_zps8e9cdcd2.jpg
The Rangers are a team of heroes based in the southwestern United States.
The group was formed in manner much like the original Avengers team. When the Hulk came under the thrawl of the Corruptor, Rick Jones was forced to call for help. The Corruptor wanted to also control Earths Mightest Heroes along with the Hulk. Instead of the Avengers answering the call Texas Twister, Shooting Star, Red Wolf, Phantom Rider, and Firebird responded. After defeating the Corruptor, the heroes decided to stay together.
Section heading
Edit
Write the second section of your page here.
Ad blocker interference detected!
Wikia is a free-to-use site that makes money from advertising. We have a modified experience for viewers using ad blockers

Wikia is not accessible if you've made further modifications. Remove the custom ad blocker rule(s) and the page will load as expected.