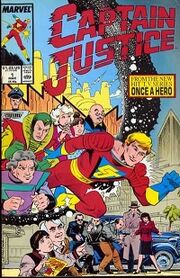 http://i424.photobucket.com/albums/pp327/monitor_ep/comic%20books%20in%20the%20media%20photos/marvelstudios_zps8e9cdcd2.jpg
http://i424.photobucket.com/albums/pp327/monitor_ep/comic%20books%20in%20the%20media%20photos/MARVELACTIONUNIVERSE802_zpsd904bab2.png

Once a Hero is an ABC 1987 science fiction comedy television series. The series stars Milo O'Shea as Abner Bevis, a down-on-his-luck comic book artist whose life is turned upside down when his creation, Captain Justice (Jeff Lester), comes to life. Also appearing in the series was Caitlin Clarke and Robert Forster.
The creator of comic superhero Captain Justice, Abner Bevis, is in a rut, repeating old storylines. The comic's owners want to kill the strip off due to falling sales, and children are losing interest in it. This transfers itself to the world of the comic strip, Pleasantville, where Justice realises his adventures are repeats, and the characters of the world are starting to fade. So Justice crosses into the real world. He finds he has lost his superpowers, but the comic's Gumshoe has followed him and is looking out for him. His antics create renewed interest in the strip. Bevis is inspired to make Justice more contemporary, and the owners agree not to cancel it.

EPISODES
SEASON 1
BELIEVERS
TRIANGLE
THE RETURN OF LAZARUS
THINGS GET UGLY
MANOS ARRIBA, MRS GREELY 
REMEMBER THE COTTONWOOD
THANK YOU, CAPTAIN JUSTICE
Ad blocker interference detected!
Wikia is a free-to-use site that makes money from advertising. We have a modified experience for viewers using ad blockers

Wikia is not accessible if you've made further modifications. Remove the custom ad blocker rule(s) and the page will load as expected.