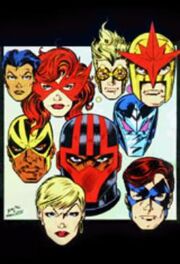 NEW WARRIORS - POWER PACK IN THE MEDIA
The New Warriors first appeared in issues 411 and 412 of the Marvel Comics title The Mighty Thor. The team was compiled by writer/editor Tom DeFalco, consisting of the young superheroes Firestar, Marvel Boy, Namorita, Nova and Speedball, all of whom were once featured in solo series or were supporting characters in more established series. To this mix DeFalco added Night Thrasher, an original character to serve as the team's founder and leader. The New Warriors were not sidekicks, as some prior teen superhero teams had been.
Edit
NEW WARRIORS IN THE MEDIA
Edit
POWER PACK IN THE MEDIA
Edit
Alex (12), Julie (10), Jack (8), and Katie Power (5) met "Whitey" Whitemane,
an alien who gave each of them one of his powers before his death, imbuing them with unique super powers. The 4 kids became the youngest superhero team ever; Power Pack. 
CLOAK & DAGGER IN THE MEDIA:
Edit
A team of two misunderstood runaways who first became friends and later became heroes.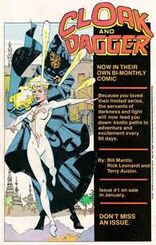 Ad blocker interference detected!
Wikia is a free-to-use site that makes money from advertising. We have a modified experience for viewers using ad blockers

Wikia is not accessible if you've made further modifications. Remove the custom ad blocker rule(s) and the page will load as expected.