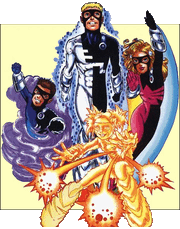 http://i424.photobucket.com/albums/pp327/monitor_ep/comic%20books%20in%20the%20media%20photos/newwarriorslogo_zps5524a0b9.jpg
WHAT WE KNOW:
Edit
2009 Marvel Studios announced that Properties including Doctor Strange, Ka-Zar, Luke Cage, Dazzler, and Power Pack are among those being considered for development
MONITOR'S NOTES:
Edit
With the three franchise of Marvel movies, it is unclear where a Power Pack movie would fall.  It would be nice to see the Power Pack in the X4 franchise so maby we could get to see Franklin Richards.
Ad blocker interference detected!
Wikia is a free-to-use site that makes money from advertising. We have a modified experience for viewers using ad blockers

Wikia is not accessible if you've made further modifications. Remove the custom ad blocker rule(s) and the page will load as expected.