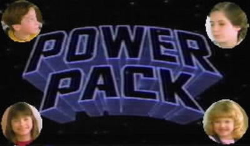 NEW WARRIORS - POWER PACK IN THE MEDIA
Alex (12), Julie (10), Jack (8), and Katie Power (5) met "Whitey" Whitemane, an alien who gave each of them one of his powers before his death, imbuing them with unique super powers. The 4 kids became the youngest superhero team ever; Power Pack.
Edit
WHAT WE KNOW:
Edit
In 1991, following the cancellation of the original comic, Marvel developed Power Pack into a live-action show for NBC's Saturday children's television lineup. While a pilot episode was made, the series was not picked up. The pilot has been aired several times during regular children's programming on Fox as a Saturday morning special. Minor alterations to the concept were made for the pilot, ranging from the children's parents being aware of their superhuman abilities, Julie's acceleration power being altered to movement at superhuman speed, without the ability to fly, and the "cloud" aspect of Jack's density power being eliminated—he was only able to shrink in size. The children did not wear costumes.
UNAIRED PILOT
Edit