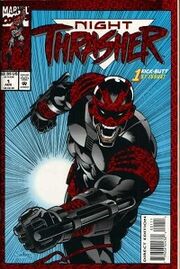 http://i424.photobucket.com/albums/pp327/monitor_ep/comic%20books%20in%20the%20media%20photos/newwarriorslogo_zps5524a0b9.jpg
WHAT WE KNOW: Dead Project
Edit
While Marvel hasdominated the big, screen, DC has seen its best successes on the TV tube. Now The Hollywood Reporter reports that Marvel is making inroads into the TV arenawith word of a Night Thrasher TV show for UPN.
The network has picked up Night Thrasher as a one hour drama. Michael Elliot (BrownSugar) will pen the script for the pilot and also serve as executive producer on the show. Ben Silverman, chief of the Universal-based production house, Reville, is also executive producing as are Marvel's Avi Arad and RickUngar. Reveille's Matt Edelman is producing.
MarvelCharacters President Ungar told The Reporter that the series "is the first of a push on our part to move into the (live-action TV) area." 
Night Thrasher made his first appearance with the team The New Warriors in the pages of The Mighty Thor. This guest-shot quickly lead to their own title, The New Warriors, which told the story of how Thrasher pulled together a super-team of disparate young Marvel heroes. In the comics, the African American, no-nonsense and high-tech character sports a suit of battle armor whose most improbable weapon was a skate-board (an element that was thankfully underplayed in the popular comic book).
Elliot, an African-American writer, was drawn to the project by the hero's ethnicity. He described Night Thrasher as "a hip-hop version of James Bond." He went on to say that Night Thrasher is "an opportunity to create a superhero for today's generation -- one like looks like them, talks like them, likes the same kind of music."
Section heading
Edit
Write the second section of your page here.
Ad blocker interference detected!
Wikia is a free-to-use site that makes money from advertising. We have a modified experience for viewers using ad blockers

Wikia is not accessible if you've made further modifications. Remove the custom ad blocker rule(s) and the page will load as expected.