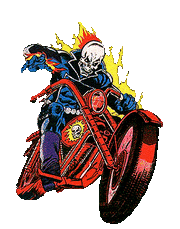 LEGION OF MONSTERS IN THE MEDIA
MONSTERS UNLEASHED IN THE MEDIA
WHAT WE KNOW: DOA
Edit
GHOST RIDER TAS Wizard #73 September 1997
Larry Brody has written a story bible for a possible "Ghost Rider" animated series.  The character  has appeared in animated form the past two years on the "Fantastic Four" and "The Incredible Hulk"  animated series, with Richard Grieco providing the voice both times.
"We're talking about doing 'Ghost Rider,' but it might wind up being direct-to-video," said Brody.   "There are some very diabolical elements, and you can't have devils on Saturday morning television.   I'm not sure you can have a flaming skull, either."
Brody's version of Ghost Rider is the original Johnny Blaze version, not the current Dan Ketch spirit of  vengeance.  
"That was always my choice," he said.  "Johnny Blaze is more colorful and dynamic.  He already has  great skills and is a hero in and of himself."
Ad blocker interference detected!
Wikia is a free-to-use site that makes money from advertising. We have a modified experience for viewers using ad blockers

Wikia is not accessible if you've made further modifications. Remove the custom ad blocker rule(s) and the page will load as expected.