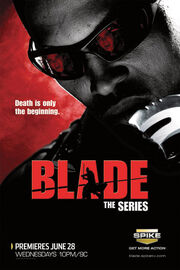 http://i424.photobucket.com/albums/pp327/monitor_ep/comic%20books%20in%20the%20media%20photos/midnightsonslogo_zps868fa22e.jpg
Blade: The Series is a 2006 American live-action television program based on the Marvel Comics character and film series. It premiered on Spike on June 28, 2006. Kirk "Sticky Fingaz" Jones starred in the title role, along with Jill Wagner as Krista Starr, Neil Jackson as Marcus Van Sciver, Jessica Gower as Chase and Nelson Lee as Shen.
The two-hour pilot was directed by Peter O'Fallon from a script by David S. Goyer (who wrote all three feature films) and comic book writer Geoff Johns.
In the pilot, Krista Starr returns from military service in Iraq to learn that her twin brother, Zack, has died under mysterious circumstances. Her investigation reveals that Zack was a "familiar" - a kind of indentured servant who agrees to do a vampire's bidding in the hopes that his "master" will eventually reward him with eternal life. Krista's search for her brother's killer soon brings her face to face with Blade, as well as with the killer himself, Marcus Van Sciver, a powerful vampire and high-ranking member of the House of Chthon. Smitten with Krista, Marcus decides to turn her into a vampire by injecting her with his blood. Krista is then approached by Blade, who injects her with the same serum he uses to control his own vampire instincts, and offers her a chance to help him avenge her brother's death and bring down Marcus and the House of Chthon, and revealed that Zack was trying to do a sting operation with Blade. The two form a reluctant partnership.
The remainder of the season follows Krista's attempts to maintain her cover in the House of Chthon, all the while struggling with her growing predatory nature, and Marcus' (supposed) efforts to develop a "vaccine" that will render vampires immune to all their traditional weaknesses; sunlight, silver, garlic, etc. It is later revealed that Marcus' true purpose is to create a virus called the Aurora Project that will specifically target "purebloods," the ruling vampire class, and leave the turnbloods (normal vampires like Chase and Marcus, who were once human) unscathed. He eventually unleashes his weapon in the series finale, surprisingly enough with Blade's help.
Ad blocker interference detected!
Wikia is a free-to-use site that makes money from advertising. We have a modified experience for viewers using ad blockers

Wikia is not accessible if you've made further modifications. Remove the custom ad blocker rule(s) and the page will load as expected.