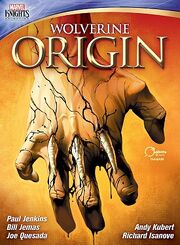 http://i424.photobucket.com/albums/pp327/monitor_ep/comic%20books%20in%20the%20media%20photos/logoRESIZE_zps8c530ec2.jpg
INFORMATION
Edit
Years into the past, we find three friends, brought together through fate, soon to be divided by tragedy. James Howlett, a sickly boy, stuck in a world where the weak are mocked and left behind. Rose, a young orphan girl summoned to work at the wealthy Howlett estate. And Dog, a poor boy abused by his father, with no hope for a better life. Three friends on the verge of having their innocence shattered. Three companions about to be confronted by the most shocking events of their young lives. Welcome to the greatest story never told.
Ad blocker interference detected!
Wikia is a free-to-use site that makes money from advertising. We have a modified experience for viewers using ad blockers

Wikia is not accessible if you've made further modifications. Remove the custom ad blocker rule(s) and the page will load as expected.