Ad blocker interference detected!
Wikia is a free-to-use site that makes money from advertising. We have a modified experience for viewers using ad blockers

Wikia is not accessible if you've made further modifications. Remove the custom ad blocker rule(s) and the page will load as expected.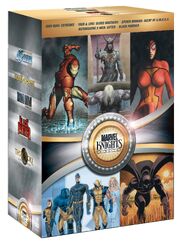 http://i424.photobucket.com/albums/pp327/monitor_ep/comic%20books%20in%20the%20media%20photos/logoRESIZE_zps8c530ec2.jpg
Shout! Factory and Marvel Animation have expanded their strategic content partnership to bring Marvel's innovative and media-rich Marvel Knights Animation series to the U.S. home entertainment marketplace. The announcement was made today by Shout! Factory founding partners Richard Foos, Bob Emmer and Garson Foos; and Marvel Animation President Eric Rollman.
Direct from the pages of the critically acclaimed comic books, Marvel Knights Animation remains true to the legendary Marvel experience of sophisticated storytelling and dynamic artwork. Behind every image and every word lies the genius of Marvel's celebrated creators like Joss Whedon, Brian Michael Bendis, John Romita, Jr., Warren Ellis, John Cassaday and Adi Granov. Boasting groundbreaking graphics, sensational soundscapes and, of course, the explosiveness of the Marvel Universe, Marvel Knights Animation merges iconic Marvel comic book graphics and dynamic animation, utilizing some of the latest technology to provide incredible, cutting-edge, in-your-face storytelling. A wonderful hybrid that incorporates all of Marvel's greatest talents, viewers can experience their favorite comics, as the spectacular visions of these authors and artists come alive in Marvel Knights Animation.
Under the multi-year agreement, Shout! Factory will be the exclusive U.S. home entertainment distributor with licensing rights to Marvel Knights Animation properties, including "Astonishing X-Men: Gifted", "Black Panther", "Iron Man: Extremis", "Spider-Woman" and many more to be announced. More on Marvel.com: http://marvel.com/news/tv/2010/4/29/12281/marvel_knights_animation_series_hit_dvd#ixzz2ngapaEAT
LIST OF DVDS
Edit
Astonishing X-Men: Gifted (September 28, 2010)
Iron Man: Extremis (November 30, 2010)
Black Panther (January 18, 2011)
Spider-Woman: Agent of S.W.O.R.D. (June 14, 2011)
Thor & Loki: Blood Brothers (September 13, 2011)
Astonishing X-Men: Dangerous (April 10, 2012)
Astonishing X-Men: Torn (August 14, 2012)
Astonishing X-Men: Unstoppable (November 13, 2012)
Wolverine: Origin  (July 9, 2013)
Ultimate Wolverine Vs. Hulk  (September 10, 2013)
Wolverine versus Sabretooth  (January 7, 2014)
Wolverine Weapon X: Tomorrow Dies Today (May 13, 2014)
Eternals (September 16, 2014)