http://i424.photobucket.com/albums/pp327/monitor_ep/comic%20books%20in%20the%20media%20photos/MCUTITLE_zps8035b302.jpg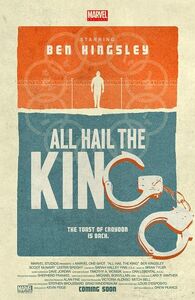 Marvel wants to make it up to fans so in the one shot, the REAL Mandarin is furious with Aldrich Killian and Ben Kingsley's character Trevor Slattery for the mockery they made of the real Mandarin's identity and legacy. The real Mandarin wants to set the record straight.
MARVEL ONE SHOT: ALL HAIL THE KING
Edit
After the events of Iron Man 3, Trevor Slattery is an infamous icon. He's also locked up in a high-security prison. Luckily, his new found profile has brought him celebrity and protection on the inside – and the actor has gladly agreed to an in-depth profile with a documentary filmmaker.
Ad blocker interference detected!
Wikia is a free-to-use site that makes money from advertising. We have a modified experience for viewers using ad blockers

Wikia is not accessible if you've made further modifications. Remove the custom ad blocker rule(s) and the page will load as expected.