http://i424.photobucket.com/albums/pp327/monitor_ep/comic%20books%20in%20the%20media%20photos/MCUTITLE_zps8035b302.jpg

Item 47 was released on The Avengers Blu-ray from August 29, 2012 in various markets and September 25, 2012 in the United States.  It was directed by Marvel Studios co-president Louis D'Esposito and written by Eric Pearson. The film has a runtime of 12 minutes, longer than the previous films, which were no longer than 4 minutes
Bennie (Jesse Bradford) and Claire (Lizzy Caplan), a down-on-their-luck couple find a discarded Chitauri gun referred to as 'Item 47' and decide to rob a few banks. S.H.I.E.L.D. agent Sitwell (portrayed by Maximiliano Hernández) is assigned by another agent, Blake (portrayed by Titus Welliver) to retrieve the weapon and "neutralize" (kill) the couple; during the briefing, the two reminisce about the recently deceased Agent Coulson.Sitwell tracks the couple down and the resulting confrontation results in the motel room where the couple are staying being wrecked, and all the stolen money blown to pieces. Instead of killing the couple, due to how Bennie modded the 'dead' Chitauri gun to work, Sitwell invite the couple to join S.H.I.E.L.D.; with Bennie assigned to the R&D 'think-tank' to reverse engineer the Chitauri tech, and Claire becoming Blake's assistant (Blake not being too keen on the idea).
The first part of the credits sequence hints at Bennie's work at S.H.I.E.L.D., refining the Chitauri technology first into a more human-friendly design, then into heavier vehicle-mounted weapons, and finally into an artillery piece.
CONNECTING TO THE MCU
Edit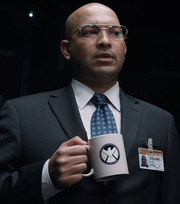 Jasper Sitwell first appeared in the 2011
Marvel Studios
film
Thor
, portrayed by
Maximiliano Hernández
. He reprised the role in the
Marvel One-Shots
short films
"The Consultant" and "Item 47," and in the 2012 film
The Avengers
. Hernández will reprise the role again in the 2014 film
Captain America: The Winter Soldier
.
Ad blocker interference detected!
Wikia is a free-to-use site that makes money from advertising. We have a modified experience for viewers using ad blockers

Wikia is not accessible if you've made further modifications. Remove the custom ad blocker rule(s) and the page will load as expected.