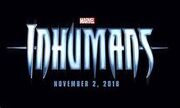 MARVEL COMICS IN THE MEDIA
WHAT WE KNOW:
Edit
An Inhuman movie was on the plans to come out in 2018 starring Vin Diesel as Black Bolt, but over the years and some internal struggles behind the scenes it seems that the Inhuman movie is no longer on the plan.  This leaves people wandering if Marvel is no longer doing a movie then where does this leave Agents of S.H.I.EL.D. and there battle with the Inhumans?
MONITOR'S NOTES: Inhumans instead of Mutants
Edit
On the surface the image is just another Marvel teaser for an upcoming comic event, but lets look at the wider implications. That "Be Vigilant" propaganda style image certainly calls to mind the early fear and hatred 
faced by Mutants in the Marvel comic universe, so it looks like The Inhumans are going to be similarly ostracized in the upcoming Inhumanity event. How does that tie into the movies? Well we've heard that there's an Inhumans flick somewhere on the cards, and since Marvel Studios can't use the X-Men, it makes sense that they'd position a different set of characters to take their place -- possibly giving them a way to explain how characters like Quicksilver and Scarlet Witch came by their powers. It definitely looks as if they'll be the new "threat" in the comic universe anyway. It's just speculation for now of course, but don't be surprised if -- just as they did with Guardians Of The Galaxy -- Marvel use this latest event as a jumping on point which eventually leads to The Inhumans on the big screen.