MARVEL COMICS: Marvel Cinematic Universe (Captain America 2)
Comments

0
Share
Ad blocker interference detected!
Wikia is a free-to-use site that makes money from advertising. We have a modified experience for viewers using ad blockers

Wikia is not accessible if you've made further modifications. Remove the custom ad blocker rule(s) and the page will load as expected.
http://i424.photobucket.com/albums/pp327/monitor_ep/comic%20books%20in%20the%20media%20photos/MCUTITLE_zps8035b302.jpg

Captain America: The Winter Soldier is an upcoming American superhero film featuring the Marvel Comics character Captain America, produced by Marvel Studios and distributed by Walt Disney Studios Motion Pictures. It is intended to be the sequel to 2011's Captain America: The First Avenger and the ninth installment in the Marvel Cinematic Universe. The film was directed by Anthony and Joe Russo, with a screenplay by Christopher Markus and Stephen McFeely, and features Chris Evans, Scarlett Johansson, Sebastian Stan, Cobie Smulders, Hayley Atwell and Samuel L. Jackson reprising their roles from previous MCU productions, as well as Anthony Mackie, Frank Grillo, Emily VanCamp and Robert Redford joining the franchise. In Captain America: The Winter Soldier, Captain America and the Black Widow join forces to stop a covert enemy that is hiding in Washington, D.C
Two years after the events of The Avengers,[1] Steve Rogers resides peacefully in Washington, D.C., struggling to adapt to contemporary society. However, after a S.H.I.E.L.D. compatriot is assailed, Steve becomes entangled in a mystery that may endanger the globe. Together with Natasha Romanoff, Captain America attempts to uncover the growing machination while fending off hired hit men. When the entire scheme is discovered, Captain America and the Black Widow must recruit the aid of the Falcon and soon encounter an unanticipated and powerful adversary — the Winter Soldier.
CAPTAIN AMERICA CASTS
STEVEN RODGERS a.k.a. CAPTAIN AMERICA
SHARON CARTER
BUCKY BARNES (WINTER SOLDIERS)
SAM WILSON a.k.a. THE FALCON
CROSSBONES
ARMIN ZOLA
NICK FURY
BLACK WIDOW
MARIA HILL
BATROC THE LEAPER
PEGGY CARTER
AGENT JASPER SITWELL
HOWARD STARK
SENATOR BEN STERN
JACK ROLLINS
WORLD SECRUITY COUNCIL CHIN HAN
WORLD SECRUITY COUNCIL JENNY AGUTTER
WORLD SECURITY COUNCIL ALAN DALE
WORLD SECURITY COUNCIL BERNARD WHITE
WORLD SECURITY COUNCIL ALEXANDER PIERCE
FERDINAND LOPEZ - MACHETE
HYDRA
MONITOR'S NOTES: Post Credit scene
Edit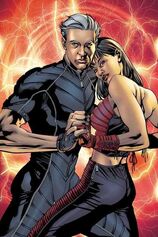 (Spoiler warning) "They're calling them "The Twins", the brother-sister team of Quicksilver and the Scarlet Witch, and they don't look like any Marvel heroes we've met to date. Having seen them, I am really sad for Fox and the X-Men." 
Read more at
http://www.comicbookmovie.com/fansites/MarvelFreshman/news/?a=93901#Me445XgyrAluZ5Lg.99