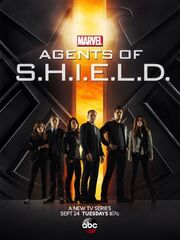 Agents of S.H.I.E.L.D.

"Repairs" is the ninth episode of Season 1 in Agents of S.H.I.E.L.D..
This episode is set to air on 26 November 2013 on ABC.
A mysterious force threatens Phil Coulson's team when they bring in a supposed telekinetic safety inspector named Hannah Hutchins who is blamed for an explosion that killed some technicians at a Partical Acceleration Complex. Fitz and Simmons plan a S.H.I.E.L.D. Academy-style prank to Skye revolving around May's past. After the plane makes an emergency landing, they soon discover that the mysterious force is actually a Partical Acceleration Complex worker named Tobias Ford who is trapped between Earth and "Hell" following the explosion and is targeting Hannah to protect her from those who were harm her. May manages to defeat Tobias at the barn and convince him to let go causing Tobias to disappear complete it. Skye is thanked by Phil Coulson for identifying Tobias Ford and getting to know more about May's past. In the final scene, Coulson's team plays a game of Upwords as Fitz comes in with shaving cream on his face, unaware that May was the one who pulled that prank. 
Ad blocker interference detected!
Wikia is a free-to-use site that makes money from advertising. We have a modified experience for viewers using ad blockers

Wikia is not accessible if you've made further modifications. Remove the custom ad blocker rule(s) and the page will load as expected.