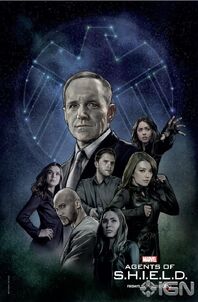 MARVEL COMICS IN THE MEDIA

Marvel's Agents of S.H.I.E.L.D., or simply Agents of S.H.I.E.L.D., is an American television series created for ABC by Joss Whedon, Jed Whedon and Maurissa Tancharoen, based on the Marvel Comics organization S.H.I.E.L.D. (Strategic Homeland Intervention, Enforcement and Logistics Division). The series is produced by ABC Studios, Marvel Television, and Mutant Enemy[and is set in the Marvel Cinematic Universe, sharing continuity with the films in that franchise. It revolves around the character of Phil Coulson, with Clark Gregg reprising the role.
OVERALL SEASON FIVE:
Edit
The Agents of S.H.I.E.L.D. find themselves time-traveled 90 years into the future where the Earth was blown-up and the rest of humanity is located on a space station called the Lighthouse that is run by the Kree.
MONITOR'S NOTES: SDCC 2015 FOOTAGE
Edit
MONITOR'S NOTES: Chinese Coke Cola Commericals
Edit
Chloe for Guangzhou Comic Con & Coca-Cola
Brett Dalton brushes up on his Chinese in this promo titled "Bottle Lines"!