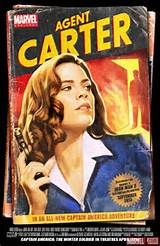 http://i424.photobucket.com/albums/pp327/monitor_ep/comic%20books%20in%20the%20media%20photos/MCUTITLE_zps8035b302.jpg
Agent Carter was released on the Iron Man 3 Blu-ray release on September 24, 2013, as well as part of the HD digital stream and download of the same available through certain outlets such as Amazon on September 3, 2013, starring Hayley Atwell as Peggy Carter.  It was directed by Louis D'Esposito. The film takes place one year after the events of Captain America: The First Avenger, in which Agent Carter, a member of the Strategic Scientific Reserve, is in search of the mysterious Zodiac.
She eventually succeeds but her misogynistic boss, Agent Flynn (Bradley Whitford), refuses to let her go on any more missions as punishment for not getting permission from him to complete the mission. However, Flynn gets a call from Howard Stark (Dominic Cooper) and is told that Carter will eventually run S.H.I.E.L.D with Stark. Pleased, Carter accepts her new career and leaves the Strategic Scientific Reserve.
Ad blocker interference detected!
Wikia is a free-to-use site that makes money from advertising. We have a modified experience for viewers using ad blockers

Wikia is not accessible if you've made further modifications. Remove the custom ad blocker rule(s) and the page will load as expected.