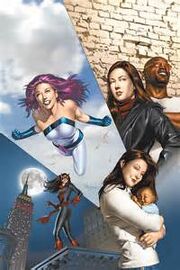 http://i424.photobucket.com/albums/pp327/monitor_ep/comic%20books%20in%20the%20media%20photos/MCUTITLE_zps8035b302.jpg
WHERE WE ARE
Edit
In December 2010, it was reported that Twilight screenwriter Melissa Rosenberg was developing a series originally for ABC titled AKA Jessica Jones, based on the comic book series Alias created by Brian Michael Bendis. In November 2011, Rosenberg stated that the TV show would center on Jessica Jones and would have principal parts for Luke Cage and Carol Danvers. She also confirmed that the TV series would absolutely take place in the larger "cinematic" Marvel Universe and Tony Stark and Stark Industries were in the pilot script but admitted, "As we go along things will alter in terms of what is made available to us, but we're definitely in that universe. We are in no way denying that that universe exists. And as much as I can I'm going to pull everything in from there that I can use".  In May 2012, ABC president Paul Lee stated the network has passed on the series.  In November 2012, Rosenberg told Collider that the show was being shopped around to other networks. On January 11, 2013, Rosenberg told IGN that the tone of the series will be suitable for cable TV.
Section heading
Edit
Write the second section of your page here.
Ad blocker interference detected!
Wikia is a free-to-use site that makes money from advertising. We have a modified experience for viewers using ad blockers

Wikia is not accessible if you've made further modifications. Remove the custom ad blocker rule(s) and the page will load as expected.