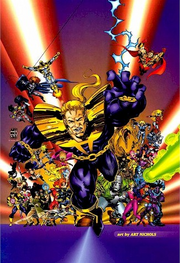 MARVEL COMICS IN THE MEDIA
The Ultraverse line was launched during the "boom" of the early 1990s, roughly concurrent with the debut of publishers such as Image and Valiant, and new superhero lines from DC and Dark Horse (Milestone and Comics' Greatest World, respectively). The line was in part intended to fill the gap left by Image's independence. They boasted improved production values over traditional comics (especially digital coloring and higher-quality paper), and a roster of respected and/or talented new writers and artists. Emphasizing the tight continuity between the various series in the Ultraverse line, Malibu made extensive use of crossovers, in which a story that began in one series would be continued in the next-shipping issue of another series. Various promotions for special editions or limited-print stories followed. The Ultraverse line came to dominate Malibu's catalog.
MAILBU ULTRAVERS IN THE MEDIA:
Edit
Ad blocker interference detected!
Wikia is a free-to-use site that makes money from advertising. We have a modified experience for viewers using ad blockers

Wikia is not accessible if you've made further modifications. Remove the custom ad blocker rule(s) and the page will load as expected.