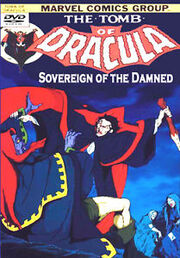 http://i424.photobucket.com/albums/pp327/monitor_ep/comic%20books%20in%20the%20media%20photos/midnightsonslogo_zps868fa22e.jpg
Dracula is the most powerful vampire in the Marvel Universe. Though not the first of his kind, he is considered lord of all Earth's vampires. Dracula is the father of Lilith and Janus and is frequently opposed by Blade the vampire hunter.
Edit
INFORMATION
Edit
In 1980, an anime television movie based on The Tomb of Dracula was released.[25] The film was called Yami no Teiō: Kyūketsuki Dorakyura (Emperor of Darkness: Vampire Dracula). Much of the main plot was condensed and many characters and subplots were truncated or omitted. The film was animated in Japan by Toei and sparsely released on cable TV in North America in 1983 by Harmony Gold dubbed into English[26] and under the title Dracula: Sovereign of the Damned
YOUTUBE VERSION
Edit
Ad blocker interference detected!
Wikia is a free-to-use site that makes money from advertising. We have a modified experience for viewers using ad blockers

Wikia is not accessible if you've made further modifications. Remove the custom ad blocker rule(s) and the page will load as expected.