Ad blocker interference detected!
Wikia is a free-to-use site that makes money from advertising. We have a modified experience for viewers using ad blockers

Wikia is not accessible if you've made further modifications. Remove the custom ad blocker rule(s) and the page will load as expected.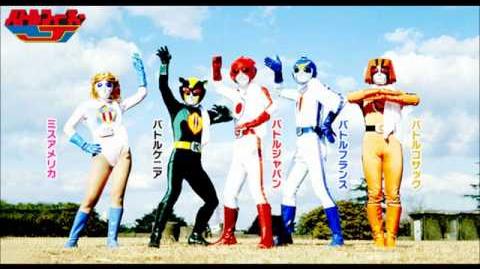 http://i424.photobucket.com/albums/pp327/monitor_ep/comic%20books%20in%20the%20media%20photos/marvelstudios_zps8e9cdcd2.jpg
General Kurama assembles four young agents who had been dispatched around the world for training. They are joined by FBI investigator Diane Martin, whose father was murdered by Egos. The five don powered suits to become the Battle Fever team. (The word 'fever' was trendy at the time.) The Battle Fever team's trump card is the Battle Fever Robo. Egos tries to stop the construction of the Robo, but the monsters they send to perform this task are defeated one by one by the Fever team. Egos then unleashes the 'younger brother' of the Buffalo Monster, a giant robot replica of its 'older brother'. The Robo, fortunately, is finished in time. Aboard it, the Fever team defeats the Buffalo Monster and its successors. The Fever team never stops, even when it lost two of its membes (the original Miss America and Battle Cossack). With new members, the team defeats Hedder, now the Hedder Monster, and breaks into Egos' headquarters, where they are fed into the Egos Monster Making Machine so that they may be used as material for a Battle Fever Monster. The team destroys the machine and with the Lightning Light Sword Rocketter sword-throwing move, slays the mysterious deity Satan Egos himself. The new format with giant robots took off, and the Super Sentai series hasn't ended since.
(from supersentai.com)
MISS AMERICA
Edit
Miss America was loosely adapted for the 1979 "Super Sentai" Japanese TV series Battle Fever J as part of the collaboration between Marvel Comics and the studio Toei. While retaining the name, the costume and character were both changed for the series.