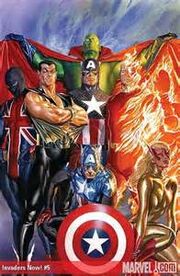 During the opening days of World War II, before the United States had formally entered the conflict, an elite fighting unit was formed at the suggestion of British Prime Minister Winston Churchill to halt the growing Nazi aggression. The first great gathering of superhuman champions and heroes, the team consisted of Captain America (Steve Rogers) and James "Bucky" Barnes, Namor the Sub-Mariner, the Human Torch and Toro , Union Jack , Spitfire, Miss America and the superfast Whizzer - These heroes and this alliance became the Superhero team known as the Invaders, cutting a swath through enemy forces until the Axis powers were defeated.
INVADERS IN THE MEDIA
Edit
CAPTAIN AMERICA IN THE MEDIA
Edit
Ad blocker interference detected!
Wikia is a free-to-use site that makes money from advertising. We have a modified experience for viewers using ad blockers

Wikia is not accessible if you've made further modifications. Remove the custom ad blocker rule(s) and the page will load as expected.