http://i424.photobucket.com/albums/pp327/monitor_ep/comic%20books%20in%20the%20media%20photos/logoRESIZE_zps8c530ec2.jpg
http://i424.photobucket.com/albums/pp327/monitor_ep/comic%20books%20in%20the%20media%20photos/inhumanslogo_zpsf920c093.jpg
The Inhumans are a fictional race of superhumans, created by Jack Kirby and Stan Lee. This race appears in various comic book series published by Marvel Comics and exists in that company's shared universe, known as the Marvel Universe.
The comic book series of this name have usually focused more specifically on the adventures of the Inhuman Royal Family, and many people associate the name "Inhumans" with this particular team of super-powered beings.
The Inhumans first appeared in Fantastic Four #45 (December 1965), though members Medusa and Gorgon appeared in earlier issues of that series (#36 and #44, respectively). Their home, the city of Attilan, was first mentioned years earlier, in a Tuk the Caveboy story written and drawn by Jack Kirby that appeared in Captain America Comics #1 (March 1941). The city was described as the home of a race that was evolutionarily advanced when human beings were still in the Stone Age.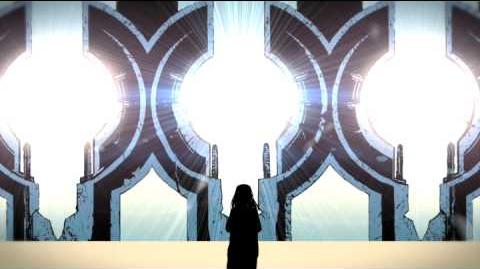 The Inhumans have always been one of Marvel's most enduring oddities. A race of genetic freaks, they live secluded in their island kingdom of Attilan, preferring not to mix with the outside world. Even stranger, their genetic mutations are self-endowed; each Inhuman, as a coming-of-age ritual, endures exposure to the Terrigan Mists, a strange substance that imparts unearthly powers, some extraordinary, some monstrous. But now the kingdom of Attilan is under attack from without and within. Can the Royal Family, led by Black Bolt (who cannot speak for his voice carries the destructive power of an atom bomb) repel the foreign invaders who blast at their outer defense, as well as the internal threat of Black Bolt's brother, Maximus the Mad?

This popular series takes a classic Marvel stable of characters, and infuses it with a modern sensibility that includes international politics and an awareness of class systems. Dark and grimly compelling, The Inhumans is one story that won't be forgotten any time soon. 
Ad blocker interference detected!
Wikia is a free-to-use site that makes money from advertising. We have a modified experience for viewers using ad blockers

Wikia is not accessible if you've made further modifications. Remove the custom ad blocker rule(s) and the page will load as expected.